Thank you for your interest in supporting Sharewear financially. Every penny of our income is charitable, which means we rely greatly on the generosity of our incredible supporters and donors not only when it comes to donations of high-quality clothing and bedding, but also with financial donations. We are immensely grateful to all individuals and businesses who provide us with funds – no matter how large or small, regular or irregular the donation.
If you'd like to support us financially in any way, you can find some ideas below. However, if you have any other ideas or would like support with anything in particular, please do not hesitate to get in touch at fundraising@sharewearclothingscheme.org.
Make a donation
The quickest and easiest way of supporting Sharewear financially is by making a donation towards our work. Even just a few pounds make a huge difference in our mission to end clothing poverty across the UK, with every penny donated being used immediately and efficiently to allow us to provide clothing to those who most need it.
The easiest way to make a donation is through our website by clicking below. However, if you would prefer to donate by bank transfer or by cheque, please get in touch with us at fundraising@sharewearclothingscheme.org so that we can provide you with the necessary details.
Want to make a lasting difference to those living in clothing poverty? Please consider making a regular donation if you are able. To read more about the impact of regular giving and how to set up a regular donation, read below.
Regular Giving
Having a regular and sustainable source of income at Sharewear makes a world of difference. It helps us plan our work more effectively to ensure we are reaching as many people as possible, it allows us to set longer-term goals and it is also hugely influential when it comes to applying for further funding for projects. Without our regular givers, we simply would not be able to continue our mission to end clothing poverty.
If you would like to set up a regular donation, please click below and select 'give regularly'.
Fundraising
One of the most common ways that people raise funds for charity is by taking part in a sponsored run.
We've teamed up with Run For Charity to offer you Charity places at races all over the country. Find out how you can run for us and some of the races that we have places by clicking here.
We are always so impressed and inspired by the creativity of our amazing supporters when it comes to raising both awareness and funds for Sharewear in their local communities. There are so many ways to do this, but if you're in need of some inspiration then take a look at the list below:
Hold a bake sale or book fair
Host a clothes swap, with the entry fee and any leftover clothes donated to Sharewear
Pub quizzes or other events with the entry fee being donated to Sharewear
Sponsored challenges, eg. physical challenges, sponsored silence for the kids, weight loss campaigns… You can set up a Just Giving page for your challenge – see below.
Keep an eye on our social media and attend our own fundraising events!
One of the easiest ways to collect sponsorship money for your fundraiser is by setting up a JustGiving page. It only takes two minutes to set up your page and, once it's ready, you can share it with family and friends instantaneously, allowing them to donate and show their support for your fundraising efforts. We receive the funds you have raised on a weekly basis, meaning your efforts are having an instant impact.
To set up your page, simply select 'Fundraise for us' on the link below and follow the instructions.
https://www.justgiving.com/sharewearclothingscheme
Sharewear Lottery
We host our very own weekly online lottery for our supporters. There is a guaranteed prize every week for one lucky Sharewear player, and you also stand the chance of winning the weekly £25,000 national jackpot! Each ticket costs just £1, with 50p of every ticket being given directly to Sharewear. Why not join in with friends and family to show us your support, have a bit of fun and hopefully win some money?
Click below to find out more and buy your ticket.
Cost-free ways to donate
If you are unable to make a donation to our work at this time but would still like to support us financially, there are ways you can do this at no cost to yourself. Sign up to our initiatives below to commit your support to helping Sharewear end clothing poverty.
Give As You Live
Give as you Live is a platform that provides a free and simple way to raise money for Sharewear when you shop online or in store with over 6,000 retailers. The platform generates charitable giving from your everyday shopping, with the participating retailers donating a small percentage of your total shop to Sharewear.
To find out more about how it works and to start raising money for Sharewear from your shopping, click below.
Donate your Nectar points
If you have unspent Nectar points sitting in your account, you can now donate them to Sharewear in a few easy clicks, generating much-needed cash donations for our work. Thanks to Nectar's partnership with Crowdfunder, every 200 Nectar points donated can now be converted into a £1 contribution to Sharewear. To find out more and to donate your Nectar points, click below.
Corporate Giving
Supporting a charity as a business is a fantastic way of both meeting your CSR targets and bringing your employees together with a common goal. There are several ways you can support Sharewear with some ideas listed below, however if you would like to discuss any specific ideas you have then please get in touch with us at fundraising@sharewearclothingscheme.org.
Sponsorship packages
We have several advertising opportunities to help you promote your business, including but not limited to our far-reaching digital presence and our two vans which are regularly on the road across large parts of the country and especially locally here in Nottinghamshire.
To find out more about our range of sponsorship packages or to discuss a bespoke package, please send us an email at fundraising@sharewearclothingscheme.org.
Payroll Giving
Payroll Giving is a fantastic and inclusive way of getting everyone in your business involved with Sharewear. By setting up a Payroll Giving scheme, your employees will have the option to make a monthly donation of any chosen amount to Sharewear before tax is deducted from their pay, giving them the tax benefit as well as the opportunity to support a charity.
We recommend setting up your scheme through the Charities Aid Foundation (CAF) as their Give As You Earn scheme is the most-used in the UK. There are no set-up costs and minimal administration fees, and there is even the option for employees to pool their donations together into one pot for a particular charity, from which a reduced administration fee is taken, maximising your donation to us.
You can find more information about how Payroll Giving works, as well as how to apply for your own scheme, here: https://www.cafonline.org/my-personal-giving/plan-your-giving/caf-give-as-you-earn/ For any more information, please do not hesitate to get in touch with ourselves or CAF directly and we will be happy to provide any more clarity.
Gift in Will
At Sharewear, we understand the importance of family and protecting those you care about, which is why we know that your priority when it comes to planning your Will might not be leaving a gift for charity. However, if this is something you are considering for Sharewear, please know that by doing so you will be enabling us to continue to empower the many thousands of people we support to take control of their lives by escaping clothing poverty.
A gift in your Will doesn't have to be a significant amount – you might wish to leave a modest cash sum or, as many do, leave 1% of your estate to charity. No matter the size of your gift, the impact will be life-changing.
All you need to be able to leave us a gift in your Will is our address and registered charity number, both of which can be found below:
Sharewear Clothing Scheme
Units D1-D2
Southglade Business Park
Cowlairs
Nottingham
NG5 9RA
Registered charity number: 1170084
We are very pleased to have partnered with the amazing people at Freewills.co.uk, who are the second largest Will writing company in the UK and offer a completely free online Will writing service. Aside from being completely free, it's a very quick and simple process to follow and with just a few clicks you can leave us a gift in your Will too, be that a cash gift or a percentage of your estate. If you're happy to write your Will online with a trusted member of The Society of Will Writers, you can get started by clicking below.
We know that the thought of planning your Will can feel daunting and that there is certain legal terminology that might seem overwhelming. Whilst we are here to help you and discuss your wishes with you at any time, we are not legal experts. For any legal queries or advice, we strongly recommend that you speak with a solicitor. You can find details of your nearest solicitors here: https://solicitors.lawsociety.org.uk/
You are, of course, under no obligation to inform us if you do decide to leave a gift for Sharewear, however we would love to hear from you if you are happy to share this with us so that we can personally thank you and talk to you about the impact your gift will have.
If you would like to discuss leaving a gift in your Will for Sharewear in more detail, please feel free to get in touch with us at fundraising@sharewearclothingscheme.org and we will be more than happy to arrange a discussion over the phone or in person, whichever you would prefer.
Support one of our Shakers Sales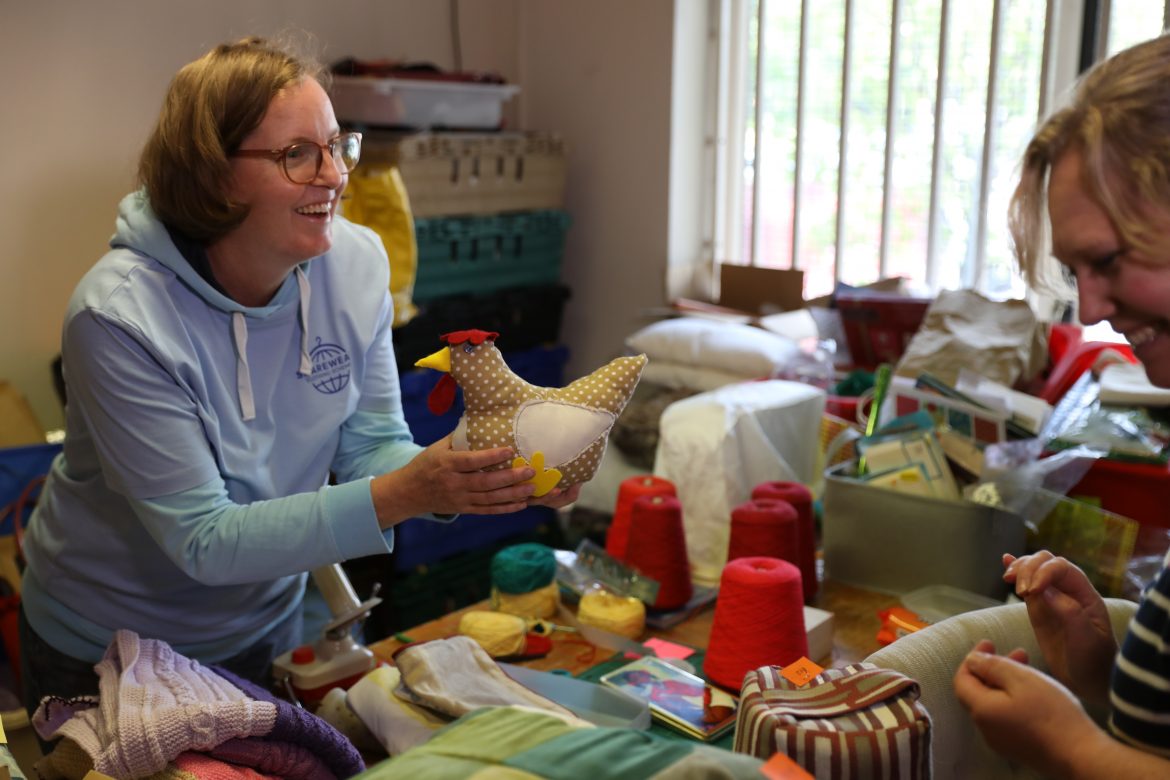 Support one of our shakers sales where we sell items made from textiles destined for landfills. Follow our social media accounts for details of upcoming events or join the group.
If you would like to take a box of our Shakers makes and sell them at your workplace or group please contact info@sharewearclothingscheme.org.
Join Sharewear Textiles Artists Club
From 3rd October 2022 we're piloting a new subscription club for textiles artists of all kinds. In addition to the textiles we divert from clothing donations that don't pass our quality rule, we also receive donations of unwanted textiles and crafting materials of all kinds from high end retailers of household linens sending us sample books and rolls of end of line fabric, to small businesses giving us their surplus crafting supplies. For just £25 per month you can browse and choose whatever materials you'd like for your textiles projects. We aim to roll the pilot out in 2023, offering a discount for those that pay their subscription upfront for the year.
To enquire about joining the club email info@sharewearclothingscheme.org